Recycling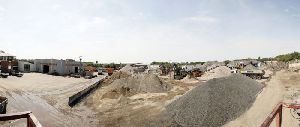 On the company' s site in Düdenbüttel there is a patent-protected slag processing plant ready for use as well as a powerful stationary crushing plant (photo) and various sieving and screening plants for crushing and sorting building rubble and road construction waste.

The stationary recycling activities of Heidemann Recycling GmbH are mainly done on the company site in Düdenbüttel. Situated between Hamburg and Cuxhaven the 90.000m² (22.5 acres) site processes mineral waste such as:
road construction waste (also bituminous)
building rubble and soil
industrial by-products
waste incinerator slag
building-site and industrial waste
bulky waste and waste wood (Kreislaufwirtschaft Stade GmbH)
as well as metals.
For those purposes we operate a construction waste crusher, a slag processing plant, building-site and commercial waste management facilities, a wood shredder and various mobile soil treatment machines.
To guarantee the mineral qualities of our building materials quality controls are carried out by our own lab as well as certified external laboratories.
About one fifth of the site is an ecological compensation area which serves as noise protection and integrates into the countryside.